North Central High School
Home of the Mighty Hurricanes
Welcome to the NCHS Home Page!

Principal-Raymond Duplechain
Asst. Principals Perry Fontenot & Willie Haynes III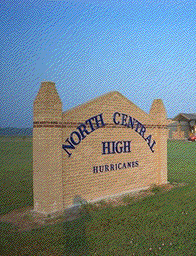 North Central High School is located in northern St.Landry Parish in Lebeau, Louisiana. We are approximately 15 miles north of Opelousas, Louisiana. NCHS was the first school to be consolidated in St. Landry Parish. In the fall of 1990, students from the communities of Melville, Morrow, Palmetto, and Washington, Louisiana entered North Central High School for the first time. Our school currently has an enrollment of approximately 440 students.
Mission Statement
Student of the Year
Teacher of the Year
Faculty Birthday Celebrations
General Information
News
Sports
The Story of the NCHS Murals
Web Archives
Student Life
CBVI
Kenneth Doucet Attends Morehouse
FFA Home Page
Huck Finn Projects-1997
Parish Spelling Bee Winners
Poetry and Prose
State Contest Winners
USL Upward Bound Class
---
NCHS Guest Book
View New Guest Book. View Old Guest Book
Sign Our Guest Book.
---
Web Connections
Interesting Links by Subject
Paul Martel's Page (Free Hypercard Stacks)
The Bunkhouse! (Jeremiah Adams-Class of '94)
Opelousas Daily World
Official Eunice Home Page
---

Best viewed with Netscape Navigator.
Please send e-mail to Paul Martel at nchs@net-connect.net.
Snail Mail-P.O. Box 10, Lebeau, LA 71345
Phone (318) 623-4239 Fax (318) 623-5360