Lady 'Canes get sweet win
North Central girls team advances to Sweet 16
By Tom Dodge
tdodge@dailyworld.com

LEBEAU - The Hurricane band was blasting out support as the fever pitch crowd was ready for the much anticipated battle between No. 2 North Central (24-2) and fifth-ranked Southern Lab (19-5) Lady Kittens on Thursday night in Lebeau.
The game lived up to the hype as North Central grabbed a 52-47 win as the Lady Hurricanes return to the Sweet 16 for the second time in school history.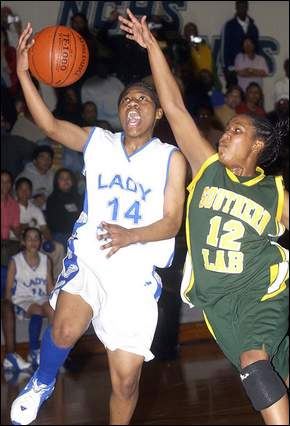 Photo by David Gremillion
North Central's Tasha Tanner gets the layup over Southern Lab's Erica Muimore on Thursday.
Up Next

North Central plays the winner of the Oak Grove/Mangham game.
The Sweet 16 will be held Feb. 27-March 4 at Southeastern Louisiana University in Hammond.

"I am so proud of them," North Central head coach Vanessa Taylor said. "I knew I had a good team, but I didn't in my wildest dreams think we would get to the Sweet 16 again."
The game opened with both teams fighting for the upperhand as North Central jumped out to a 4-3 lead with two buckets by Appollonia Chambers.
Southern Lab then mounted a 9-2 to push ahead 12-6 midway through the first period.
Turnovers and sloppy play dominated the final four minutes of the opening stanza as both teams tried to move the quarterfinals jitters out.
After Roshaunda Barnes nailed a jumper for the Kittens, Tasha Tanner then scored the last three points of the period to close the Lab lead to 14-9.
Southern Lab attempted to slow the game down early in the second period, but the Lady Hurricane defense forced passes as Donisha Durrisseau's bucket closed the gap to 14-13 with 5:28 left before intermission.
Tiaquincia Stampley forced her way to a bucket a few seconds later as Lab took a 16-3 advantage.
Chambers quickly responded with a 3-pointer as the Lady Hurricanes tied the game, 16-16, midway through the second quarter.
Durrisseau gave North Central an 18-17 lead a minute later, but a trey by Roshaunda Barnes and the inside play of Stampley pushed the Lady Kittens ahead 24-19 before Taylor called a timeout to regroup.
Daraneisha Joseph hit a free throw in the closing seconds to close Lab's lead to 24-20 at intermission.
"They weren't intimidated even when we had the first half turnovers," Taylor said of her team. "I wanted to push the ball because we knew their big girls were slow."
North Central stormed out of the locker room early in the third quarter when Val Harris and Durrisseau scored underneath to tie the game, 24-24.
But Lab responded with jumpers by Stampley and Libby Lanus to retake a 28-24 lead.
The Lady Hurricanes answered with an 8-0 run, aided by a trey from Harris as North Central grabbed a 32-29 lead with 3:27 left in the period.
After the two teams exchanged buckets, Stampley converted a three-point play to tie the game, 34-34 with 2:25 remaining.
Durrisseau then scored five unanswered points, including a buzzer beater trey to give North Central a 41-34 lead heading into the fourth quarter.
The Lady Hurricane senior kept scoring with four more points in the paint to push North Central ahead 44-34 with 5:40 left in the game.
A 3-pointer followed by a bucket underneath helped Lab close the gap to 44-39 at the 5:00 mark.
Daraneisha Joseph scored in the lane for North Central, but Lanus nailed two free throws to keep the game close 46-41 with just over four minutes left.
The game was halted for several minutes after Roshaunda Barnes crashed into the wall attempting to foul Tasha Tanner.
After the delay Tanner calmy hit both free throws as North Central led 47-41 with 3:20 left.
Southern Lab closed the gap to 49-43 a few seconds later, but Chambers answered with a drive of the lane for the Lady Canes.
Lanus and Diamond Edwards scored two last buckets for Lab, but Durrisseau drilled a free throw in the closing seconds to seal the win.
"I told them once we got the lead Southern Lab would fall apart," Taylor said. "And they did."
Southern Lab fell in the quarterfinals last year to Vermilion Catholic (52-32), but won three straight state titles from 2002-2004.
The Lady Hurricanes advanced to the Sweet 16 in 2002, but fell 74-32 to eventual Class 2A champion St. Frederick. North Central fell to Iota 69-37 in the 2A regionals last year.
Southern Lab defeated White Castle (73-41) and Crescent City (46-40) to advance to the showdown with the Lady Hurricanes.
North Central began the playoffs with a 60-39 win over Dunham (third place team in District 7), but then held off Block (second place team in District 3) in the double- overtime 61-60 road thriller.
The Sweet 16 will be held Feb. 27-March 4 at Southeastern Louisiana University in Hammond.



Originally published February 24, 2006