NCHS Canes' Play Well Despite First Season Loss
(excerpt and photo borrowed from Daily World Paper)

"We must respect their running game and their linebackers," Hurricanes coach Herb Lamb said. "Especially (Thadeus) Kennison - he stopped our momentum and turned the game around. I believe they had extra motivation, (because they didn't) want to lose to a Class 1A school."
Despite their struggles, the Hurricanes did have a few bright spots, especially on offense, where running back Kairon McClenan had a solid game. McClenan rushed for 118 yards and a touchdown on 10 carries to lead a Hurricanes' offense that totaled 184 yards on the night.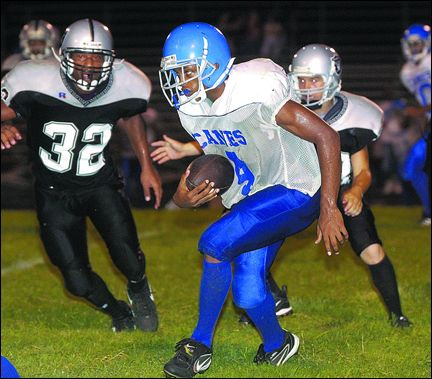 "I could've done better," McClenan said. "The team worked hard, but we have to stop giving up on ourselves. We have to learn to work as one. We will get better."
Freshman quarterback Jamal Doucet also had a good outing, completing 6 of 15 passes for 73 yards and a touchdown.