I'm proud to say that I had an opportunity to teach this young lady. She was a top student and a member of the Upward Bound Program at the University of Louisiana (which I was a part of also). I am very proud of her and I believe in her. -Mr. Martel
Daily World News
Article published Feb 15, 2007
Fighting for the future
Former teacher Ledricka Johnson seeking office to aid school system, community
By Yuwa Vosper
yvosper@dailyworld.com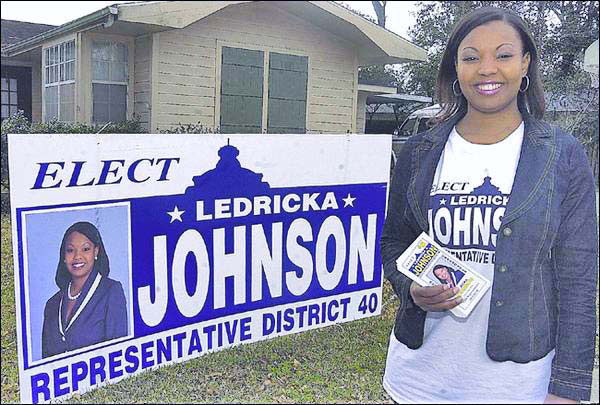 Ledricka Johnson is a new face in the six candidate race for District 40 state representative. If elected into office, she said she won't just do a great job but an effective job as representative.
"It is time for someone who is honest and dependable, energetic and accessible," she said. "I wanted to come back to my community and give this community my best years."
She explained her platforms which mainly focuses on children. For her, fighting for the future is fighting for the children. Johnson said she wants to people to realize that the future generation will have to live with the bills drafted and passed in the legislature.
Her first project for the children will be to partner with the local government to create a youth recreational center.
"Children need to be off of the streets after school," she said. "They need to be somewhere safe and in a safe environment."
Improvements in the educational system is another main concern. She wants to first ensure that teachers and support personnel receive their promised pay raises.
As a former teacher who has worked in the school system, Johnson said she knows firsthand how hard educators work.
In addition, if elected, Johnson said she would implement senior citizen assistance programs, make sure towns will get the money deserved for community block grants, and provide assistance and support for farmers and agricultural families.
Johnson said she will not neglect the firemen and policemen and work to increase their salaries while also helping to secure funds to repair roads.
She plans on taking her legal background as an attorney to the legislature.
"As a representative, you must read the law all the time and understand it," she said. "I know the legal language and will be able to comprehend what is being discussed and be able to effectively fight for what is best for my district."
Growing up within the district has allowed her to build a relationship residents. She said she is able to see the areas of improvement rather than being told about what needs to be done.
While living back home, Johnson said she noticed a need for a service that would help people file their taxes. She helped begin the Volunteer Income Tax Assistance, or VITA, so underprivileged residents could take advantage of the service.
"I wanted to make sure they received everything back that they deserved," she said.
If elected, Johnson said her first priority would be to set up local committees to keep some type of partnership within the community. The committees would help her to stay aware of current issues.
Johnson is working to move her office in a central location so it can be accessible to everyone within the district.
She said her main purpose is to make people understand that she wants what is best for the district.
"I want to make my district proud," she said. "As my slogan says, the citizens of District 40 have made me who I am."