In Memory of Mrs. Mary Jo Bowie
Oct. 13, 2003 (update) We are saddened by the recent news of the death of Mrs. Mary Jo Bowie, and we wish to express our deepest sympathy to her family. Miss Bowie will always be a part of North Central High School. She will be missed, and she will always be remembered. She was full of life, full of love, and she really cared about the children, who loved her as much as she loved them. She was an inspiration to all of us of what we should strive for as educators.
Congratulations Mary Jo Bowie!!!
Support Personnel Employee of the Year-1998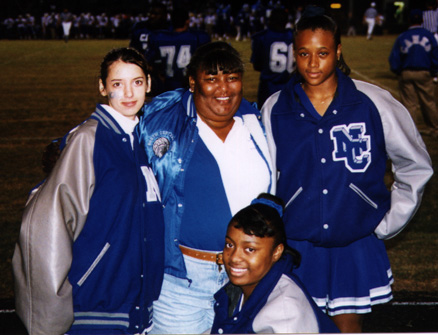 Mary Jo Bowie, or "Miss Bowie" as she is known by all, is an exceptional woman. Hired as a teacher's aide for Title I students at North Central, she was much more than that. Miss Bowie was a cheerleader coach and assistant basketball coach. She sponsored a basketball tournament to help raise money for her cheerleaders, and she made sure that every cheerleader was brought home, even if she had to bring them home herself. Miss Bowie was a chaperon for many school activities. She also helped out with football activities and was homecoming coordinator. She helped prepare food for football players when they qualified to play in the state championship game. She cared for her students and spent time preparing extra work for those who were having problems in math. She helped out as secretary in the front office. And the list goes on. Miss Bowie is a special lady and we thank her for all that she has done for our school. Recently, she was injured in a automobile accident and is recovering slowly. We miss you and hope and pray that you will recover fully and return to us again soon!