A hero's send-off
North Central's ''best and brightest'' report for duty
Alain de la Villesbret / Staff Writer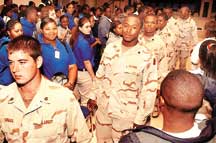 Posted on September 30, 2004

Freddie Herpin / Staff Photographer
North Central High School graduates who are preparing to leave for Iraq were honored at the school Wednesday with a going-away ceremony. The group is pictured exiting the school auditorium to the sounds of "When Johnny Comes Marching Home Again."
Marion Johnson of Washington wrapped his big arm around his son's shoulders and pulled E-4 Specialist Marion Johnson Jr. to his chest.

"That's my best friend," he announced in the hallway of North Central High School Wednesday afternoon. "I have five children and I am proud of them all. He's the second oldest in the family. He's a leader, a good man and my best friend."

Spc. Johnson openly returned his father's hug. The warrior, whose mother is Deborah Johnson of Washington, graduated from North Central in 2002 after achieving a 3.0 GPA and success in agriculture and civics clubs. He also played the baritone brass in the school band.

On Friday, Johnson will join his Alpha Company squad with the 1088th Engineering Battalion of the 256th Infantry Brigade at Fort Hood near Alexandria for deployment to Kuwait. In a matter of days, he will be in a desert on the other side of the world.

"I'm not looking forward to this, but how ever the future holds, I will go along with it. Got to do my duty and hopefully make it back home safely," Johnson said.

Over 300 members of the North Central High School community gathered in the school auditorium Wednesday afternoon to celebrate the courage of seven of their graduates, young men who are about to place themselves in harm's way.

The program, organized by school staff members and St. Landry Parish Sheriff's Office Resource Office Deputy Mercedes Davis, included patriotic songs performed by the school's band; talks of support given by community leaders and teachers, and a performance of the Mary Mary song, "I just Can't Give Up Now" by Mary Simon, 13, and Shae Lavergne, 14, of Washington Elementary School.

In addition, two NC students, Danielle Beard, 17, and Lamar Dixon, 18, wrote stirring original poems celebrating the young men.

"These are the best and the brightest and they represent the real North Central," said Principal John Murphy. "These are young men of high character and morals and commitment and they are willing to make the sacrifices that are necessary to protect our way of life."

Fontenot also told the mothers of the soldiers who attended the program that the school was still their family and they could depend on his help during the trying times ahead.

The Rev. Dale Fontenot of Palmetto praised the young men as "a new breed of hero" and called for students to make a difference in their community as the warriors are making a difference.

"This was a good program today and it makes me think and more concerned about what is going on in the world," said student Donisha Duruisseau, 17. She was one of the many students who applauded and cheered the warriors. Many of the girls hugged the young men, and many of the boys slapped their backs and shook their hands.

The warriors included: Specialist Marion Johnson Jr., 20; Spec. Trojan Harrison, 20; Spec. Rodney Journet, 20; Sgt. Michael Lamb, 22; Dequincy Stein, 21; Lance Luneau, 20, and Derek Luneau, 20. Spec. Keith Johnson, who played football at North Central, was called to duty and could not attend.

"I feel ready. I feel I have enough training so that I can make it," said combat engineer Journet.

Sgt. Lamb agreed with Journet.

"With all the training we have gotten, I feel pretty confident," said Sgt. Lamb. "I enjoy the army, the camaraderie, the discipline, the way we do things, everything about it."

"I'm the godmother and auntie of this fine young man," said Elizabeth Lamb as she smiled at Sgt. Lamb. "I'm proud of all these young men and I want them back home soon. We're cooking up a big ol' dinner tomorrow for him," she said.

Deborah Luneau of Palmetto has trouble containing her emotions.

"These are the babies," said Luneau of her twin sons, Lance and Derek Luneau, 20. "I am very nervous about this," she said before her voice was choked off by tears.

"They (family) are taking it as best as they can take it, loosing two of us right now and worrying about us. But they will do okay," said Spec. Lance Luneau. "We want to go in and get out."