This year has been a pretty busy one for Danielle Beard of Lebeau.

There was finishing high school at North Central, preparing her valedictorian speech, the prom, friends, choosing a college ... being the ambassador for the state's multi-million dollar beef industry.

So maybe that last one isn't typical of your everyday high school senior, but Beard has managed to successfully juggle school and her duties as the Louisiana Cattlemen's Queen like a seasoned pro.

"My job is to promote the beef industry as a consumer to the consumer," Beard said. "I guess 'Queen' is a good title, but I like to think of it more as being an ambassador. I'm not here to be pretty ... I'm here for the industry."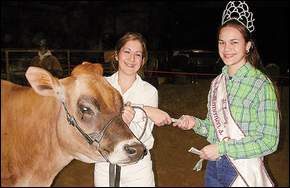 When invited to events that include other queens, it's easy to pick Beard out of the crowd. She's usually the one in blue jeans and a button-down shirt, standing next to glittered women in gowns. The only similarity in attire is usually the crown.

But, that's what Beard is most comfortable in, she said. Her involvement in agriculture began at a very young age. She began showing livestock at shows as early as 9.

"My dad is an ag teacher, and I always thought I wanted to do something else ... like go into the medical field," she said. "But that changed in the 10th grade when I broke my finger and fainted at the sight of my blood."

She's not the typical ag student, however, as she's not a huge fan of animals.

"The only animal I like is a cow," she laughed. "I can't stand cats or dogs, and horses are OK. But if all I had to do was raise a herd of cows, it'd be no problem."

Beard said her favorite part of the "job" is attending the cook-offs and tasting the food. When it comes to beef, she likes a good medium steak, but her favorite meals are chili and a dish her grandmother makes with taco sauce, noodles and ground beef.

But, beef isn't all there is to this future Louisiana Tech University freshman (she starts in the fall). In addition to her title as queen, Beard is an accomplished student. She has won numerous scholarships and awards as her class valedictorian this year), is a devoted member of Future Farmers of America and an aspiring teacher.

"I get along well with kids, and ag is such a hands-on subject that I feel I'd be good at teaching it," she said. "I'd love the chance at helping kids with their careers. Besides, why not teach what I like?"

In FFA, Beard won the state's top prize in floriculture, and she won the state Envirathon. She'll be heading to Missouri this month for the national contest. In addition to serving as the state's Area III FFA vice president, Beard was also a member of 4-H and Beta Club while in high school.

She even likes the blue corduroy jackets that have become symbolic of FFA.

"They are atrociously hot in the summer, but there is pride in wearing it because of what the organization does in promoting youth," she said.

FFA, she said, is just one of the many things she'll miss about high school. She'll also miss the long hours.

"I know it sounds stupid, and some people will say I'm a nerd, but I'll miss all the studying," she said. "My friends always asked how I kept my grades while hardly being at school, but because of everything I'm involved in, you understand the meaning of dedication, you learn what takes priority. High school was quite the dramatic experience for me, but I've learned so much from it."

The near future means going to Ruston and moving into the college residence hall. Despite her years of public speaking, juggling numerous tasks and representing industries, Beard is a little nervous about college.

"I'll be three hours from home; I'll be on my own ... I'm nervous about it," she said. "But I think being in FFA - being Queen - it's all helped me deal with things like this."

She'll remain queen through her first semester before relinquishing the crown in January.

Originally published July 4, 2005