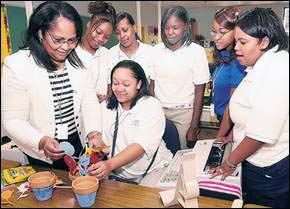 About the program
What is the STAR Program?
The STAR Program provides high school juniors and seniors an opportunity to learn about teaching as a career through one-credit courses offered at their high schools that also will allow students to obtain college credit toward a teaching degree. Only two schools in St. Landry Parish offer the program, but others likely will be added in the coming years.
What are the prerequisites of the STAR Program?
There are no course requirements prior to enrolling in the STAR Program. However, students applying to participate in the STAR Program must meet the following:

Be a junior or senior in high school

Have a GPA/GPR of at least 2.5 on a 4.0 scale. In the case of an applicant whose GPA closely approximates 2.5 and who meets all other requirements, a STAR Review Panel may recommend acceptance based upon consideration of the student's application.

Submit a completed application packet, including parent or guardian approval, three teacher recommendations and an essay explaining the reason for choosing to participate in the program.

Participate in an interview with the STAR Review Panel.

Source: www.louisianaschools.net

To get more information on the STAR program, check with your local high school principal or guidance counselor, or contact Trish McLean, Louisiana Department of Education program consultant, at (225) 219-0366 or by e-mail at trish.mclean@la.gov.
Marie Bush interacts recently with her students at North Central High. The juniors and seniors may one day become teachers themselves, after participating in the STAR program, which gives them the opportunity to learn about the career.
Photo by Freddie Herpin-Daily World

With colored markers, they drew shapes on small clay pots that would hold the paper flowers of their self-esteem.

When these aspiring teachers looking to have fun are finished, each will have earned three college credits.

The South Carolina teacher cadet curriculum was adopted six years ago by Louisiana schools as a way to help recruit teachers. The program offers junior and senior high school students a year of educational studies, during which they design a lesson plan and practice teaching.

With a growing demand for "highly qualified" teachers - national predictions show a need to hire 200,000 teachers each year during the next five years - Louisiana took one more step, dropping the South Carolina program and writing its own, Students Teaching and Reaching, to align the coursework more closely to Louisiana specifics.
"STAR is more detailed as to what universities teach," said North Central High teacher Marie Bush. "Students have to do a portfolio, detailed lesson plans and 20 hours of observation. The program gives them a chance to not waste parents' money by waiting until college. They get a hands-on chance here to learn what the teaching profession is all about."

It also gives them a chance to avoid becoming a growing statistic in Louisiana education circles of teachers who teach for fewer than five years, then leave. According to the state Department of Education, nearly 30 percent of all Louisiana teachers leave the profession by the end of their fifth year. The hands-on training for high schoolers in STAR allows them to find out early whether teaching is for them.

"Education was my second choice," said Dawnesha Tibbs, one of the class' two juniors, as she sat gluing popsicle sticks to paper flowers. "Radiology is my first, but since they offered it here, I said I would take the program and see."

Onto each of the flowers, the six girls' names were written along with one complimentary adjective. The classmates used words like kind, friendly and courteous to describe each other.

Bush said the flower pots will sit on the students' desk sthroughout the school year to remind each how well they are thought of, thus raising their self-esteem.

Jessica Smith, a senior, said she is taking the class because she plans to become an elementary school teacher.

"I want to be able to understand children," she said. "I want to understand them on the level they learn and think."

Tech Prep Facilitator Yvonne Normand said that when the teacher intern program first came to St. Landry Parish, it was taught at all the schools. Since switching to the STAR program, teachers must undergo training and not all schools yet have teachers certified to teach the class.

This school year, classes are offered only at North Central and Beau Chene high schools.

Betty Rideau, a special education teacher at North Central, said her son, Lemar Dixon, had been thinking about being a teacher, but it wasn't until he completed the STAR program that he decided on education as his career path.

"He'd been around a mom who teaches 20-plus years, but it was the reinforcement that he had in Miss Bush's class that kind of finalized it," she said.

Tricia Merrick, section supervisor for career and technical education with the state Department of Education, said the yearly loss of teachers requires the state to sell education to young people as a career choice.

"This will show them what they are getting into and hopefully they will stay," she said.

Former Eunice High teacher Vera Matt said one of her very first students in the Teacher Cadet program today is a teacher at Washington Elementary School.

"In most every industry out there, they recruit, but education never did that. We finally realized if we want the brightest and best, we need to recruit," Matt said. "A lot of us don't realize how we touch kids, but when you see it and realize it touches other generations, it really makes a difference."

Senior Chastity Louis said while she likes smaller children, it is her goal to teach junior or senior high school students.

Her class will complete observations at the Head Start center across the highway from the school.

"If I can handle the little kids, then maybe I could handle the teenagers," she said. "I want to teach history because I liked it. It was fun for me, so maybe I can make it fun for others."